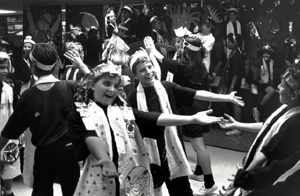 The following article is reprinted from Newsday; May 2000
Drama Residency
By Brittany Casal, Nida Hameedi and Kayla Turner
Kidsday Staff Reporters
f you have ever performed in a class production, you know how demanding it can be. But, have you ever considered what it would be like to perform with three other classes under the direction of a Broadway coach? We were given the chance to do this and it was so incredible. Our fine arts director, Rita Padden, invited a Broadway directing coach, Karen DeMauro, from the New York Acting Center to lead us in a production. Our teachers had to brainstorm a topic. Mrs. DeMauro worked with us to develop the script, songs, lyrics and dance moves. Guess what? We had to learn it and perform it in only one week! We began it on Monday and put on the play for our parents on Friday.
We stood on chairs and tables on the auditorium stage to perform our songs and say our lines. Movement was very important in this play, and Mrs. DeMauro taught us how to use our bodies to express ourselves. Each child in the play had a speaking part, and all the kids participated in the songs and dances.
For more information about the Acting Center, call 800-822-9582.